---
Datos Generales Sitio
Frecuencia: 26.33 MHz
Ancho de Banda: 250 KHz (26.205<26.33<26.455) MHz
Resolucion radial: 600 m
Mediciones cada 15 min
Post-procesamiento: 13 28 43 58 min
Mergebeam: 32 min
True North: 306
IP:148.231.228.94 (desde ocomex)
IP:192.168.2.112 (desde chuy)
Rx antenas pasivas
4 filtros pasa-banda WERA del CRx: Frq= 26.3 MHZ; BW = +/- 750 KHZ
Los canales del 5 al 8 no tienen la tarjeta bypass.
No. Serie DDS: 1-19
No. Serie CRx: 2-19
No. Serie PA: 1-16
No. serie Dtacq: D32097
NOTA: Llevar Monitor, teclado, mouse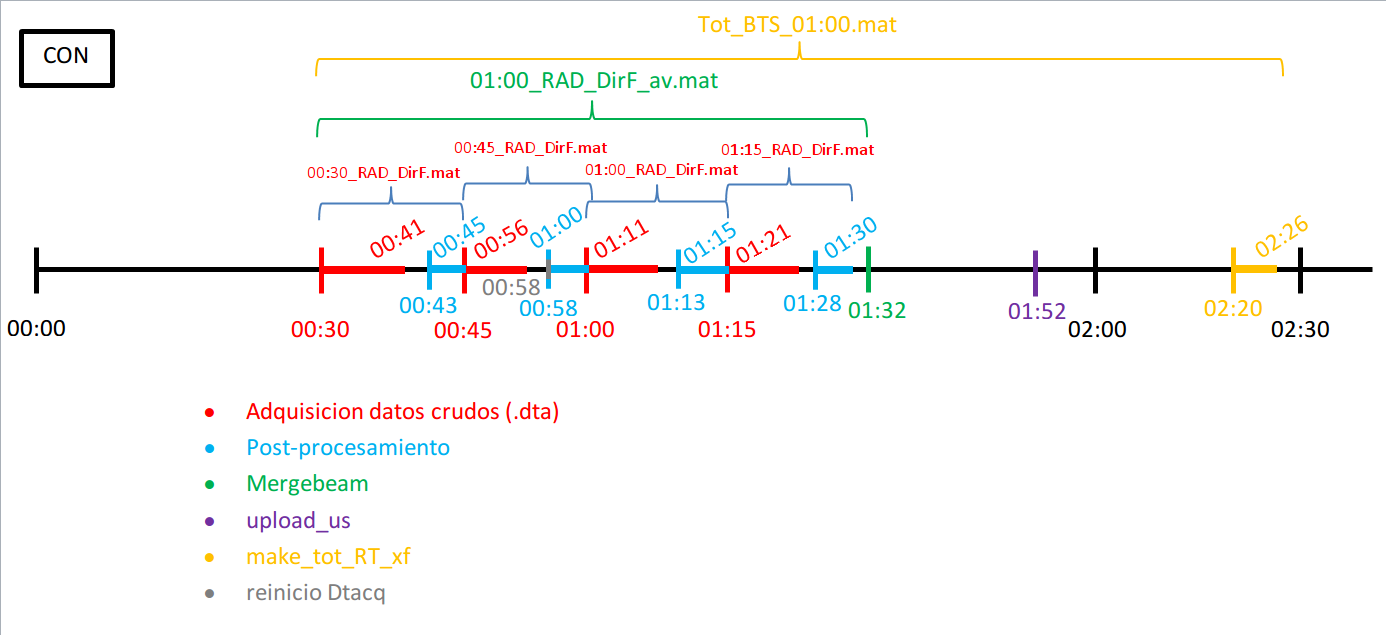 ftp://ocomex.ens.uabc.mx/wiki_uploads_open/crontab_con.png
---
17/oct/2017 (Joha)
Modifique la frecuencia en el hdr, hay que reprocesar los datos desde el 20172471800 al 20172902300
---
23/feb/2017 (Todos
Pusimos 4 filtros del wera al CRX de conalep
ftp://ocomex.ens.uabc.mx/wiki_uploads_open/fotos/crxconfebrero17/Concrx17-1.jpg
El corte del filtro va de: 25.55<26.3<27.05 MHz
---
08/25/2016 (Isaac)
in /home/wera/work/matlab/hfr_process/make_lst2mat_one.m add the saving of the metavariables: load /home/wera/etc/params.mat and remove the details of the save command, i.e. save it all.
---
Sat Apr 2 22:17:52 UTC 2016
Se activo a partir de nuevo el filtro entre las celdas 37 a 44 debido a "reject 60 Hz alias"
Vlado.
---
25/01/16 (Isaac, Valdo, Chuy, Dania)
El conalep dejo de transmitir desde las 4:30 UTC del 23 de Enero. El motivo tuvieron un evento en conalep y al salir bajaron los Switch apagando los radares. Se enciende de nuevo el radar, termina medición a las 1:15 UTC del 25 de Enero.
Se puso una nota para evitar vuelva a pasar, se revisa las TX, todo en orden.
ftp://ocomex.ens.uabc.mx/Dania/01FOTOSSITIOS/20160125/foto1.jpg
---
12/01/16 (Dania)
Se fue a revisar el sitio por que no estaba transmitiendo informacion, al llevar al sitio todo encendido, se conecta monitor todo en orden, se abre pagina de internet y se detecta que no tiene internet, el problema estaba en en la antena Rango
SE deja el siguiente archivo de consideraciones en caso de que se presente que no esta transmitiendo los sitios que se debe revisar.
ftp://ocomex.ens.uabc.mx/Dania/consideraciones sitios.txt
---
10/10/15 (Andy, Vlado, Dania)
Se cambiaron ventiladores del wera FCR-415-12 (se tomaron los ventiladores del wera que esta en el laboratorio)
La tarjeta de internet estaba apagada y no enviaba datos, se movio el cable y funciono, parace que hay un falso contacto en el cable que viene de la antena Trango.
Se verifico que el computador estuvo midiendo de manera autonoma del dia 2015313 pero no se enviaron a OCOMEX
---
09/11/15 (Andy, Cesar, Vlado, Isaac, Dania)
Instalación de antenas con los cambios que se habían considerado en días anteriores
---
22/10/15 (Andy,Dania, Cesar, Vlado, Isacc)
Medidas del arreglo de antenas TX
Medidas de los cables de la antena a el splitter
Antena 1: 3.5m + 1.88m= 5.38m (por que se le agrego una extencion con un barrilito)
Antena 2: 3.5m
Distancia entre la Antena 1 y la Antena 2 es de 2.85m (como se muestra en la foto de abajo)
ftp://ocomex.ens.uabc.mx/Dania/conalep.JPG

---
10/16/15 (Andy, Vlado, Dania) El sitio se encontró como se muestran en las fotos, una de las antenas no tenia los radiales.
ftp://ocomex.ens.uabc.mx/Dania/20151016/IMG_0734.JPG
ftp://ocomex.ens.uabc.mx/Dania/20151016/IMG_0741.JPG
Se arreglan las antenas, se toma nota de lo que se necesita para la instalación de antenas.
ftp://ocomex.ens.uabc.mx/Dania/20151016/IMG_0739.JPG
ftp://ocomex.ens.uabc.mx/Dania/20151016/IMG_0737.JPG
---
10/14/15 (Pierre)
changed NaNed ranges to 37-44 in mergebeam.m4, to avoid 120 Hz intermodulation at range 40 which is 24 km, outside Bahia de Todos Santos
---
27/8/15 (Vladimir)
Al revisar el almacenamiento del computador de la estacion Conalep, encontré que el almacenamiento en la carpeta
 /home/wera/data

es de solo 43G, el espacio en el disco duro es el siguiente:
Filesystem || Size || Used || Avail || Use% || Mounted on
/dev/sda1 || 16G || 7.1G || 7.8G || 48% || /
none || 4.0K || 0 || 4.0K || 0% || /sys/fs/cgroup
udev || 3.9G || 4.0K|| 3.9G || 1% || /dev
tmpfs || 788M || 772K|| 788M || 1% || /run
none || 5.0M || 0 || 5.0M || 0% || /run/lock
none || 3.9G || 76K || 3.9G || 1% || /run/shm
none || 100M || 80K || 100M || 1% || /run/user
/dev/sda3 || 886G || 43G || 798G || 6% || /home
este computador tiene todavia espacio para almacenar datos.
---
30/6/15 (Vladimir and Marie)
Bi Static Calibration: CON(RX) listen to QTA(TX) from 10h15 to 12h15 Local time.
We work with the CON Working frequency (26.2 MHz, and not with the center frequency 26.325MHz)
FIRST FILE:20111811600_con.CAL ; LAST FILE:20111811900_con.CAL
Bi Static Calibration: CON(RX) listen to VIL(TX): RE DONE because the calibration of yesterday was wrong
USE F1=30.476440227938 TO BE REALLY on -80HZ.
FIRST FILE:20151820000_con.CAL ; LAST FILE:20151820200_con.CAL
---
29/6/15 (Vladimir, Xavier & Marie)
Bi Static calibration: CON (RX) listen to VIL (TX) from all the night (from 29 to 30 non utc, stop acquisition 30june at 9h LOCAL TIME).
We found an error on the Center frequency. In fact the center frequency is 26.325MHz (and not 26.335MHz) for CON.
/!\ /!\ /!\ The CAL FILES 20151802245_con.CAL TO 20151811600_con.CAL ARE WRONG !! We made a mistake, indeed we put -80HZ on LERA BUT NO in WERA. We have to re do this CALIBRATION /!\ /!\ /!
WE RE DO THE BISTATIC CALIBRATION the 30/6/15 with RXoffset=-80Hz.
---
7/6/15 (Pierre)
made a mergebeam mask range cell 38-41 to NaN the 60 Hz
implemented automatic mkdaydir with crontabbed mvdaydir
---
31/5/15 (Pierre)
cleaned up all configuration files, processing scripts, with later revisions.
software configuration of site is complete and backed up on ocomex in ocomex-con
DOES NOT WORK: password-less login from ocomex->con. WHY? con->ocomex works.
---
30/5/15 (Pierre)
implemented etc/params.mat to mergebeam.m to list the parameters required by Scripps
---
26/5/15 (Vladimir)
Working frequency 26.2 MHz
Low frequency 26.07 MHz (measured with the little radio)
High frequency 26.33 MHz (measured with the little radio)
Bandwidht 0.26 MHz
The working frequency is the middle frequency of the chirp.
---
21/5/15 (Pierre)
implemented the real-time processing and copy to ocomex, based on the direction finding program of pepeeko site, Hawaii
---
14/5/15 (Dania)
http://ocomex.ens.uabc.mx/wiki/uploads/foto1
http://ocomex.ens.uabc.mx/wiki/uploads/foto2
http://ocomex.ens.uabc.mx/wiki/uploads/foto3